A big THANK YOU to all of our clients and customers in 2018 and the past. We are gearing up for another exciting year and look forward to serving all your Auction & Real Estate needs.
The Rudy Auction Crew: Troy, LeAnne, Mavric, Kolton, Cade, Bill, Brew, Lynne & Josh

Troy Rudy; Auctioneer/Real Estate Broker IL #440000433, WI #2618-052
As we begin another New & Exciting Year....Rudy Auction Co. continues our commitment to provide the most complete and comprehensive Auction Services with the addition of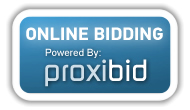 "Online Only" and "Live/Online" Auction Events.



Upcoming Auction Events:
A Big "Thank You" to all who registered and participated in our Online Only Auction this past Saturday!!
Save the Date: Saturday, June 22, 2019 @ 10:00 A.M.
"The Allan Merkle Estate" at Public Auction "Live/Online"


Antiques, Collectibles, Music Boxes, Steam Whistles, Remington Bronzes, Vintage Machinist & Carpenter Tools, Antique & Household furniture, Antique tractors & Much more. Please check back for details and photos.